Seems like this is the cookies time of the year!
And I love it. Cookies everywhere. With all kinds of yummy stuff both inside and outside. Beautifly decorated, made in warmth of your cozy kitchen, especially with your little ones around.
This year December got to be anything but cosy and relaxed for me, rather hectic and busy and I didn't get the luxury of playing with my cookie molds. This year is my first year of being vegan and along the many things I've learned, the sweet stuff somehow got behind. Apart from Carob&Cranberry roll, The Softest Vegan Pumpkin Bread and Vegan Plum jam Cornbread, I didn't get to explore all that vegan sweet creamy holiday cakes. But give me a day or two, and there will be a sweet surprise, I promise!
But, no December can be without cookies, right?
And this one is no different. I remembered the ace I had in my sleeve for long: Lemon banana Cookies that I made long ago for my Croatian blog that weren't exactly in the "Christmas category", but still, vegan and what's more, so simple and delicious, and that's what cookies are all about!
So this Lemon Banana Cookies are the easiest thing you can whip up this Christmas and have a delicious blast. The little ones will love to make them too! And when cookies are done, you'll want to make them again 🙂 all soft with little crispiness, flakey, scented with beautiful and sparkly lemon juice and zest!
So enough of talking, let's do the baking!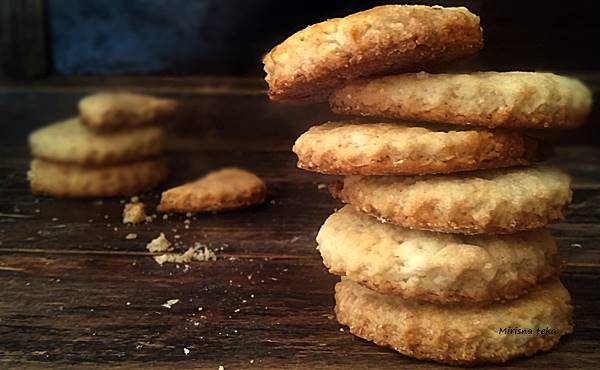 Here's what you need:
VEGAN LEMON BANANA COOKIES
makes 20 or more
200 g flour
100 g brown sugar
pinch of salt
1 tsp of baking powder
120 ml of oil
50 g ripe banana, smashed
juice of half of the lemon
the zest of one lemon (be sure to use organic)
Start your oven to heat up to 180°C. Line the big baking sheet with baking paper. Make the dough out of all ingredients, it'll be moist. If it's too moist and sticky, add a little flour, but not too much. If it's too dry to roll, add some lemon juice. Dust the rolling surface slightly, roll the dough 5 mm thick. Cut the dough with cookie moulds and put them on the baking sheet. Bake for 15 – 18 mins at 180°C or till they are golden from above and have a nice brown bottom. Cool the cookies and enjoy!
What are your favourite cookies?