For a long time now Valentine's Day has not meant just sending cards, giving chocolate and flowers. Valentine's is a cup of hot tea or coffee brought to your loved one's bedside. Valentine's is carrying their bag full of groceries. Valentine's is remembering something the other one forgot.Valentine's is all those simple, little things our lives are made of. 
But what would love be without sweets? Gifts that are sweet both in taste and presentation? And they're the best kind of sweet when they're home-made. With special thanks to my food blogger friends who participated in this roundup, here I present you with a collection of desserts that you can easily prepare for your Valentine or some other, special and loooving – someone occasion. There are cookies, cakes, tarts, puddings, cupcakes, truffles… well. Be sure to also check my Amazing Collection of 15 Vegan Valentine Drinks too! Enough of my talking. Have a sweet Valentine look at these recipes yourself!
Almond Walnut Chocolate Balls (V, GF), NUTS AND WALNUTS
Walnut & Poppy Shortcrust Layer Cake (V), NUTS AND WALNUTS
Vegan Valentine Sweetheart Cookies, THE MISFIT BAKER
Chocolate Cupcakes With Strawberry Frosting, THE MISFIT BAKER
Healthy Vegan Chocolate Maple Pudding with a Secret Ingredient, YUMSOME
Vegan Chocolate Matcha Truffles, YUMSOME
Raspberry Ruffle Bar (Vegan, Gluten Free), SUNNYSIDE HANNE
Healthy Black Forest Bon Bons (Vegan, Gluten Free, Paleo), SUNNYSIDE HANNE
Triple-layer cheesecake hearts (Gluten-free, Vegan), SEVEN ROSES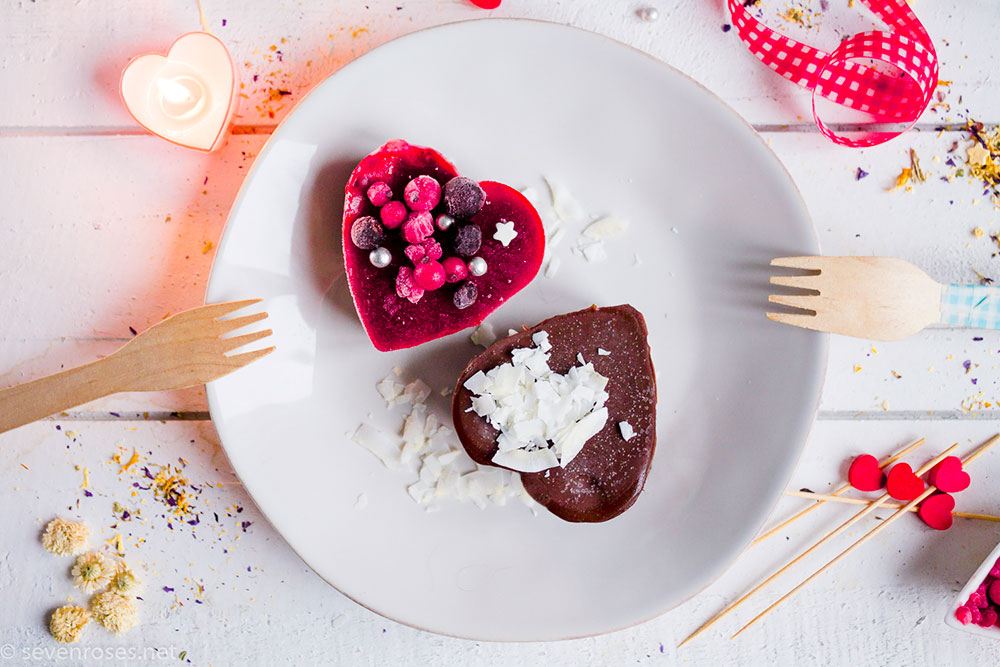 Chocolate and Peanut Butter Truffles, ANNA BANANA
Chocolate Hazelnut Pudding Pie (Vegan Grain-Free), FROM MY BOWL
Raspberry Dusted Chocolate Fudge Brownie Truffles
Chocolate Chia Pudding for Two, VEGGIES SAVE THE DAY
Turmeric Maca Powder Cacao Energy Balls, NATALIE'S HAPPY HEALTH
Caramel Mocha Chocolates (Vegan), ANNA BANANA
Classic Gluten Free Chocolate Cupcakes (Vegan, Allergy-Free, Sugar Free), STRENGTH & SUNSHINE
Indulgent Vegan Chocolate Cake with whipped Coconut Cream, TINNED TOMATOES
Triple Chocolate Donuts with Sprinkles, TINNED TOMATOES
Tahini Chocolate Chip Cupcakes (Vegan, Oil free), VEGGIE INSPIRED
A Vegan Valentine: Lavender Rose Baked Donuts, HEALTHY SLOW COOKING
Gluten-Free Vegan Chocolate Avocado Cupcakes with no added oil!, HEALTHY SLOW COOKING
Chocolate Decadence Candy Recipe (Only Three Ingredients!) to Please Your Valentine, VEGAN RUNNER EATS
Vegan Pots de Creme, MY DARLING VEGAN 
Vegan Peppermint Patties, PLANT POWER COUPLE
Healthy Chocolate Tarts (Gluten-free, Sugar-free, Vegan) FIT FOODIE NUTTER
Sugar and Spice Cookies, FRIED DANDELIONS
Healthy Vanilla Cupcakes for Valentine's Day, VEGANNIE
I hope you enjoyed this Amazin Collection of Valentine Desserts as much as I did! The only problem now is to chose what to make first 🙂 have a nice and loving Valentines, my dear everyone, and may it spread to all of your days!
xx Mari
*PIN THIS COLLECTION FOR LATER!*
Join our VEGAN DEVOTED Facebook group for sharing recipes, gathering ideas and having a great time talking everything vegan!